Living With Data at Data Justice 2021: Civic Participation in the Datafied Society
Home > Living With Data at Data Justice 2021: Civic Participation in the Datafied Society
The Living With Data team are delivering a roundtable at Data Justice 2021
Hosted by the Data Justice Lab at Cardiff University's School of Journalism, Media and Culture (JOMEC), this year's event aims to bring together international scholars, practitioners, activists, and community groups to discuss the theme of civic participation in a datafied society.
The roundtable, titled 'Understanding 'Living With Data' as a route to citizen participation in datafied society', features short presentations on all stages of the Living With Data research as outlined below.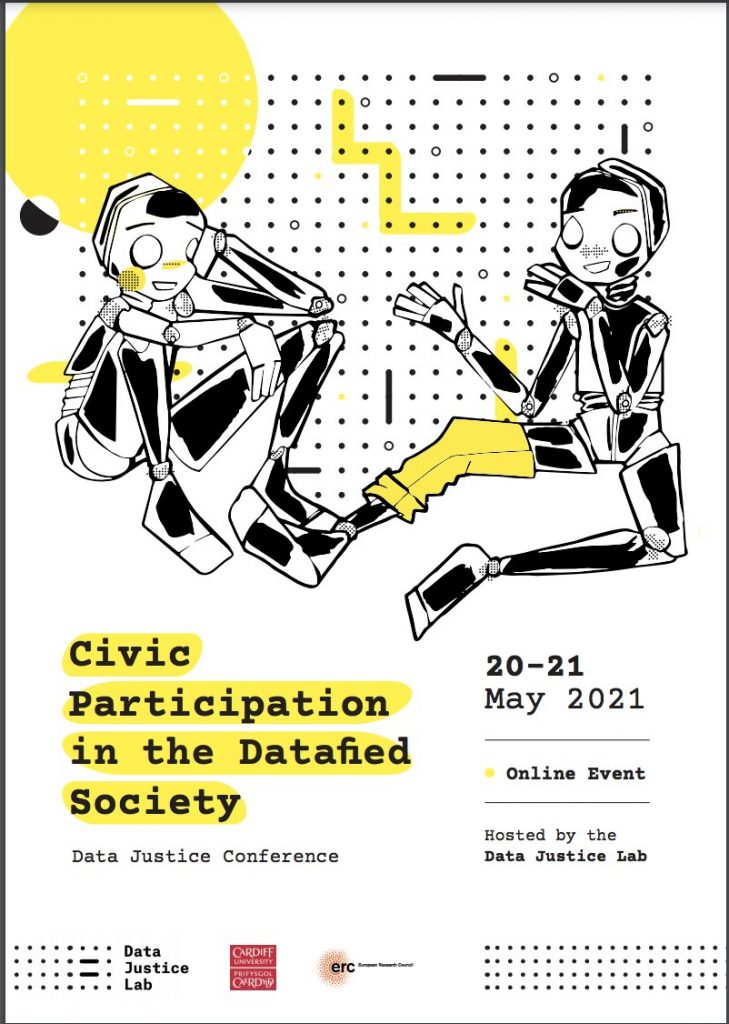 1. Living with Data and civic participation (Helen Kennedy)
Helen introduces the Living With Data project and it's links to the conference theme of civic participation in a datafied society. She argues how thinking about matters relating to civic participation and data justice should be informed by the perspectives of the people upon whose data datafication depends. 
2. Key learnings from the evidence review (Susan Oman)
In this section, Susan presents an evidence review of what is claimed to be known about public perceptions of datafication. She talks through some of the key takeaways from the review as well as providing reflections on the methodology and importance of conducting systematic reviews in this field.
3. Data journeys: methodological challenges (Jo Bates)
Jo will discuss the data journeys approach to understanding data flows and practices specifically focusing on the methodological challenges faced when adapting this approach to organisational contexts. She will also introduce the data visualisations designed by Lulu Pinney that are used as elicitation tools in the qualitative stages of the research.
4. Survey: key findings (Itzelle Medina Perea and Mark Taylor)
This section presents key takeaways from the Living With Data survey. Itzelle and Mark will present new insights into the concerns about data practices and discuss the implications of both trust and knowledge when it comes to the attitudes people hold about data.  
5. Online interviews and focus groups: emerging themes (Hannah Ditchfield)
Hannah will talk through some emerging themes from the ongoing interview and focus group discussions. She will highlight some of the 'journeys' feelings and understandings towards data practices go on as well as question the role that imagination plays when understanding what happens to data.
More information on the multiple methods used on the Living With Data project can be found here
Access to the full Living With Data literature review can be found here 
Find the full Data Justice 2021 programme here