Living with social media data mining
Home > Previous research > Living with social media data mining
About Post, Mine, Repeat: social media data mining becomes ordinary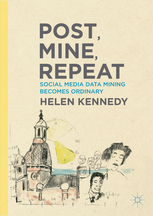 Published at the close of 2015, Post, Mine, Repeat: social media data mining becomes ordinary draws together research carried out between 2012 and 2014, which was supported by a range of funders. In the book, author Helen Kennedy argues that as social media data mining becomes more and more ordinary, as we post, mine and repeat, new data relations emerge. These new data relations are characterised by a widespread desire for numbers and the troubling consequences of this desire, and also by the possibility of doing good with data and resisting data power, by new and old concerns, and by instability and contradiction. Drawing on action research with public sector organisations, interviews with commercial social insights companies and their clients, focus groups with social media users and other research, Kennedy provides a fascinating and detailed account of living with social media data mining inside the organisations that make up the fabric of everyday life.
Post, Mine, Repeat
Social Media Data Mining Becomes Ordinary
by Helen Kennedy
view on palgrave macmillan website
Researching Data Power: Looking Forwards
Watch this video of Helen Kennedy talking about some of her ideas in the book at the Data Power 2017 conference in an opening statement entitled 'Researching Data Power: Looking Forwards':
Endorsements
Helen Kennedy has written an enlightening, informative and utterly convincing book. The focus of Post, Mine, Repeat on "ordinary" uses of data mining is a hugely welcome and much-needed contribution to debates about the role of big data in society. I'm so glad that Kennedy's sane, measured, thoughtful, careful, eloquent, ethical voice is there in these debates, for me to cite, recommend and go back to for guidance whenever I get into arguments on the vitally important topics she covers.

Professor David Hesmondhalgh, University of Leeds
Post, Mine, Repeat is a genuinely ground-breaking and original piece of work, in which Helen Kennedy shares a range of important and revealing empirical insights into the practices of data mining. To my knowledge, no-one before has managed to produce such detailed research into data mining. The book shows how data mining fits into commercial monitoring, into organisations, into activism and into public sector services, how these are changing, and exactly what part data mining plays in empowerment and resistance, as well as surveillance and control. It is accessible, yet it tells some complex stories. This really is a tremendous, agenda-setting piece of work.

Dr David Beer, University of York
This is a much-needed study on the importance of data mining to workers in ordinary organisations and more generally in society. What sets this book apart from other academic studies is its empirical focus: through interviews with users, professional data miners and key agents in organisations, Helen Kennedy tackles the larger issues involved in data mining and renders them concrete. The book is clearly focused and persuasively argued, a must-read for anyone who wants to understand what happens next in the world of Big Data.

Professor José van Dijck, University of Amsterdam
Reviews
Ordinary actors are now harnessing technologies for mining people's social media data… Such organisatons contribute to the structure of our daily lives yet scholarly insights into their practices are in short supply, making Helen Kennedy's book […] a ground-breaking contribution.

(Ysabel Gerrard, Information, Communication and Society, vol 20 no 12, 1817-1820, 2017)
I am grateful that this book highlights so many aspects of social data mining, including the quantified self movement and the Seeing Data project that identify ways in which ordinary citizens can engage more with the politics of data mining […] Media studies students and professors seeking a snapshot of scholarship on social media data mining will find this text incredibly helpful as an aggregator of a vast and ideological varied body of scholarship.

(Daniel Keyes, PsycCRITIQUES, vol 61 no 51, 2016)
Funders
The Arts and Humanities Research Council (AHRC) supported 'Understanding Social Media Monitoring' (Grant AH/ L003775) with a Research Leadership Fellowship. This funding made possible the research discussed in Chapter 6, some of the research discussed in Chapter 8, and the writing of the book.
The Engineering and Physical Sciences Research Council (EPSRC) supported 'Digital Data Analysis, public engagement and the social life of methods' (Grant 95575108) and 'Public Engagement and Cultures of Expertise' (Grant EPSRC-CCN2013-LEEDS), discussed in Chapter 4.
Various small grants from the University of Leeds funded interviews in social media data mining companies, discussed in Chapter 5, and focus groups with social media users, dis- cussed in Chapter 7, including:
– HEIF V (Higher Education Innovation Fund, Reference 95559240)
– IGNITE (References 95559274 and 95559274)
– The Creative and Cultural Industries Exchange (Reference 95559284).