Empowering the arts sector to tackle inequalities through data: AHRC interview with Susan Oman
Home > Empowering the arts sector to tackle inequalities through data: AHRC interview with Susan Oman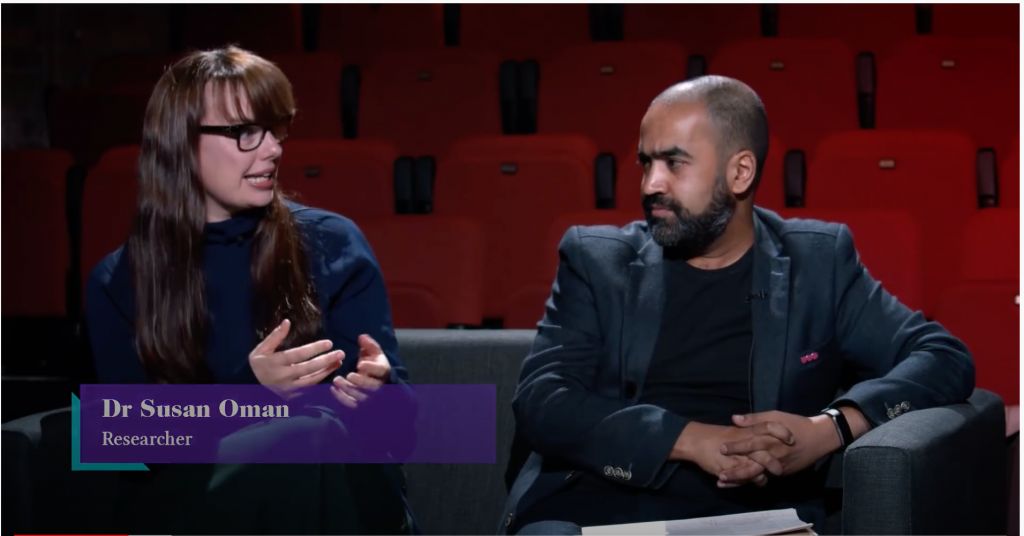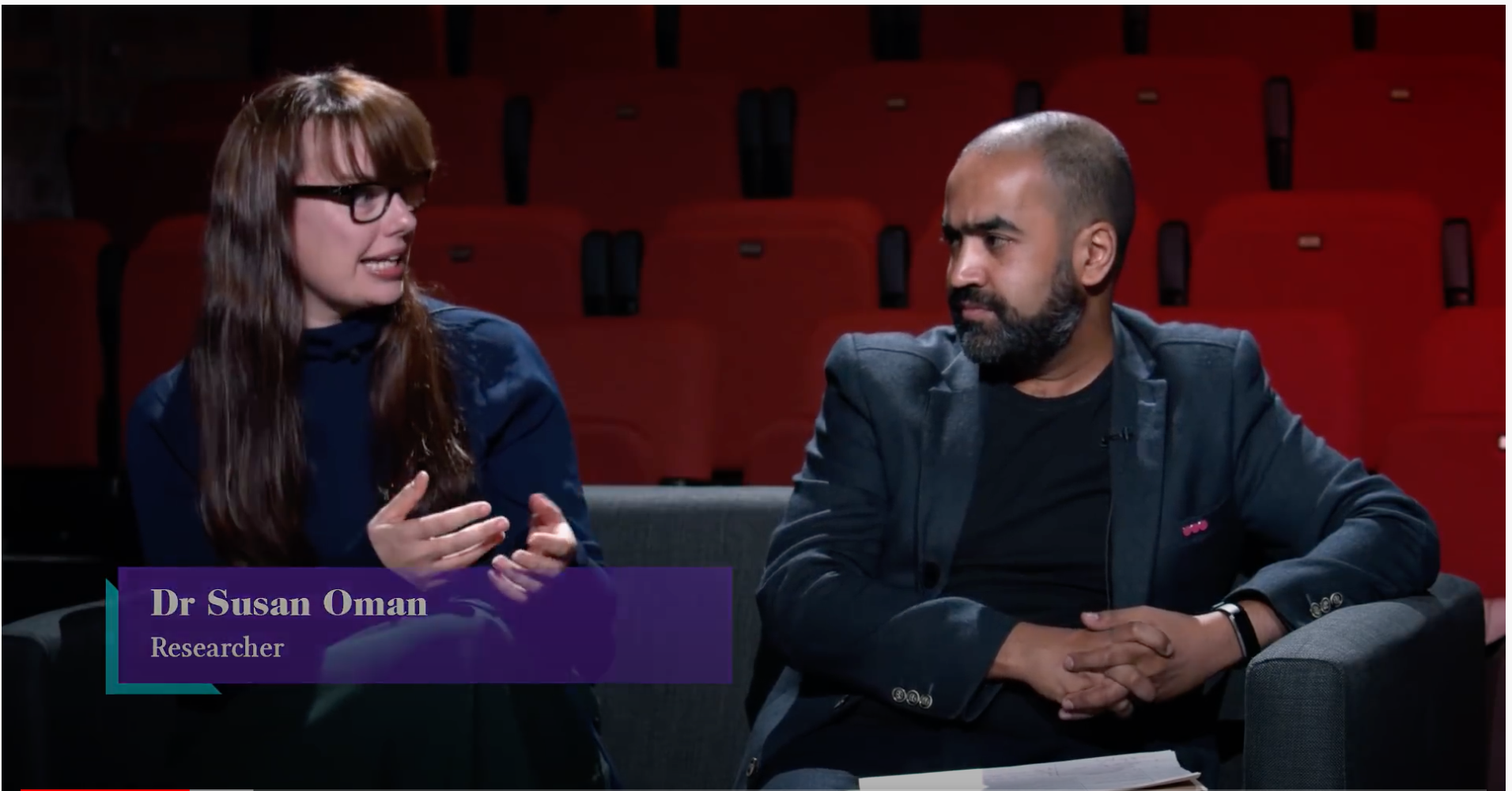 Dr Susan Oman – and Abid Hussain, Director of Diversity at ACE, in a panel discussion during ACE's 'Creative Case: Digging into socio-economic diversity' webinar
In partnership with Arts Council England, Dr Susan Oman from the University of Sheffield developed a new process to improve inequality measurement, including class background, in the UK cultural sector. Through funding from AHRC's Creative Economy Engagement Fellowship scheme*, Dr Oman's research triggered the creation of a new network of arts and culture professionals working in publicly funded institutions which offers support in gathering and analysing Equality, Diversity and Inclusion related data.
This is a re-post of original content published by the AHRC – view post.
Methods for collecting workforce data for the cultural sector can be unsystematic and resource-heavy. According to Dr Oman, many people who work in the sector are convinced that 'they can't do data' or that the arts and culture sector is a fairer and more equal space than it is. Her fellowship addressed both of these misconceptions. When Dr Oman embarked on her Creative Economy Engagement Fellowship, she hoped to facilitate conversations about what social mobility means across the sector, and to provide practical help for Arts Council England (ACE) to improve their data gathering by measuring class/socio-economic background of staff employed at ACE's National Portfolio Organisations (NPOs) – organisations in receipt of regular ACE funding.
Dr Oman's inductive fieldwork involved over fifty in-depth interviews with NPOs' staff as well as 26 focus groups. The interviews were conducted with staff with key responsibilities for data and diversity, while the focus groups benefitted from the perspectives of workers across the many functions and paygrades of each organisation. Participants completed two composite questionnaires containing standard questions used to measure social class or social mobility, and then reflected on the experience: the wording, format, their emotional responses to the questions and whether they felt that they knew how to answer them. With these findings, two online surveys were trialled – one internal with ACE staff and one external with NPOs. This methodology allowed Dr Oman to gauge current understandings of class and social mobility across the 200 participants – and across England. Dr Oman also investigated practices that are working well as areas for improvement in equality, diversity and inclusion and existing data practices in the arts and cultural sector.
The immediate impact of the fellowship project was on the Arts Council. Before Dr Oman's fellowship, ACE had expressed interest in collecting data on socio-economic background of people working in publicly funded cultural organisations. Although it had undertaken a pilot on its own staff, it wasn't able to implement the process at that stage. In addition, no comparable source of information was available. As a result of Dr Oman's research ACE has updated its 2019/2020 Annual Data Survey Questions and Guidance to include a new question that enables socio-economic background of the arts and culture sector workforce to be measured. Survey returns are due in October 2020 and the Arts Council is planning to use the findings to better understand access to the arts and culture and what barriers there may be.
Dr Oman's research is impacting the wider cultural sector too: a policy briefing created as part of the project is being used as a resource for cultural organisations to enhance the way they capture diversity and (in)equality statistics.
The policy briefing includes a list of practical recommendations which will be beneficial for policymakers, the fellowship's findings therefore have a strong potential to influence future policies. Both the Policy Briefing and the Working Paper Dr Oman wrote have recently been submitted to the All Party Parliamentary Group for Creative Diversity and are to be discussed at one of their future meetings in 2020.
In terms of career development, experience gained as a Creative Economy Engagement Fellow helped Dr Oman to obtain a lectureship in Data, AI and Society at the University of Sheffield. She is now a Co-Investigator on the 'Living with Data' project. Her research investigates how data works in context and in relation to policy issues such as well-being, loneliness, inequality and class.
Dr Oman has also collaborated with data practitioners she met through the research to establish a new network, made up of individuals from publicly funded organisations, who are responsible for diversity monitoring. The network has created a collaborative environment for these staff members, providing opportunities to share best practice and support. Two conferences were organised, addressing topics such as GDPR and measuring disability and class background of audiences. Since the lockdown began the network has also held an online roundtable.
Further information
*Dr Oman's Creative Economy Engagement Fellowship was part of two projects that were linked to Living With Data. Data, Diversity and Inequality in the Creative Industries (January to August 2018), was co-ordinated by Dr Mark Taylor and What constitutes 'good data' in the creative economy? (January to July 2019) was co-ordinated by Professor Helen Kennedy. The research was also supported by Dr Oman's Honorary Fellowship to The University of Manchester's Institute for Cultural Practices.
Read what Dr Oman had to say about the findings of her research in the AHRC blog post 'A Question of Class: how do social inequality metrics work in cultural organisations?'
See ACE's 2019/20 Annual Data Survey Guidance (page 14-16)
Watch ACE's Creative Case webinar 'Digging into Economic Diversity' where Dr Oman appeared as a panellist.
For detailed information about the methodology please see page 9 to 26 of the 'Improving Data Practices to Measure Inequality and Introduce Social Mobility Metrics: A Working Paper for the cultural sector' – a working paper by Dr Oman.
Read about the project's impact on the Arts Council here and here and Dr Oman's policy briefing,
Measuring Social Mobility in the Creative and Cultural Industries – The importance of working in partnership to improve data practices and address inequality, here.
AHRC's Creative Economy Engagement Fellowship Scheme was designed to support the delivery of the UK Industrial Strategy by allowing early career researchers in the arts and humanities to explore interdisciplinary solutions as well as address focused sectoral needs, both in the short term and long term, to the economic benefit of the UK.